Updated 4/19/2018
Lower Swall Meadows Water System (LSMWS)
- There is a proposed rate increase for those residences that are current receiving water or are considered having a "connected lateral". The annual assessment will go from $420 to $508. That's an increase of $88 annually or $7.33 monthly. There is a public hearing / meeting scheduled for June 9, 2018, 2:00 p.m. at the firehouse. If approved, the proposed effective date is July 1, 2018. There is also an annual cost of living increase proposed. If approved this will take effect July 1, 2019.
You should have received a notice through the mail with a detailed explanation of the basis for the increase. Click
here
to view that notice.
Sustainable Ground Water Management Act
– WCCSD elected to join the Inyo Countys JPA (Joint Powers Agreement). WCCSD now sits on the Board of Directors of the JPA and on 11/9, the JPA board will meet and expect a decision on financial commitment from WCCSD. There are several cost / no cost options that will be discussed at the 11/7 special WCCSD board meeting
(see agenda)
. Not only a financial commitment will be discussed, but also the decision will impact WCCSD involvement in the JPA as well. This and other topics related to the SGMA will be discussed at the next board meeting schedule for 11/7 at 7:00 at the firehouse. All members of the water district are encouraged to attend.
SGMA - Sustainable Ground Water Management Act
. It may have significant financial impact on our District. For complete details, view the State's website at:
http://water.ca.gov/groundwater/sgm/
​
Good Water Conservation Practices are at the bottom of this page!
​
---
---

Wellhouse 1 lost in the fire has now been replaced as is fully functional. Well 1 which was not being used was properly retired and sealed. New electrical, piping, telemetry and several control valves to fill the reservoir were replaced. It is now known as Pressure Station 1 (PS1). Want more info on the Round Fire? ​

Click here!
OUTDOOR CONSERVATION TIPS


- Do not use water to wash off hard surfaces like asphalt or walkways unless there is a health hazard. Sweep with a broom.
- All hoses should be equipped with automatic shut-off nozzles.

- Install drip irrigation system with "smart" timer controllers.
- Water in early mornings (before 9:00 a.m.) or later in the afternoon (after 5:00 p.m.) to reduce evaporation.
- Don't water on windy days
- Check irrigation system frequently for leaks and errant sprayers.


- Avoid or minimize lawns
- Plant drought-resistant varieties. Many are native
- Place mulch or other material to reduce evaporation.

- Do not overfill pools or spas. Use a cover to reduce evaporation.

- Wash your pet in an area that needs watering.

INDOOR CONSERVATION TIPS

- Immediately fix any leaks in faucets or toilets.
- You can check a leaky toilet by simply placing food coloring or any type of dye inside the reservoir. If the color leaks into the bowl without flushing you have a leak!

- Choose a quick shower over a bath.
- Turn off the water while lathering with soap and shampoo. In the shower and at the sink.
- Reduce shower time by even a few minutes daily.

- Run only full loads in the dishwasher or clothes washer.
- Avoid the garbage disposal. Use the trash can or compactor.

- Turn off the water while brushing your teeth.
- Choose water efficient toilets.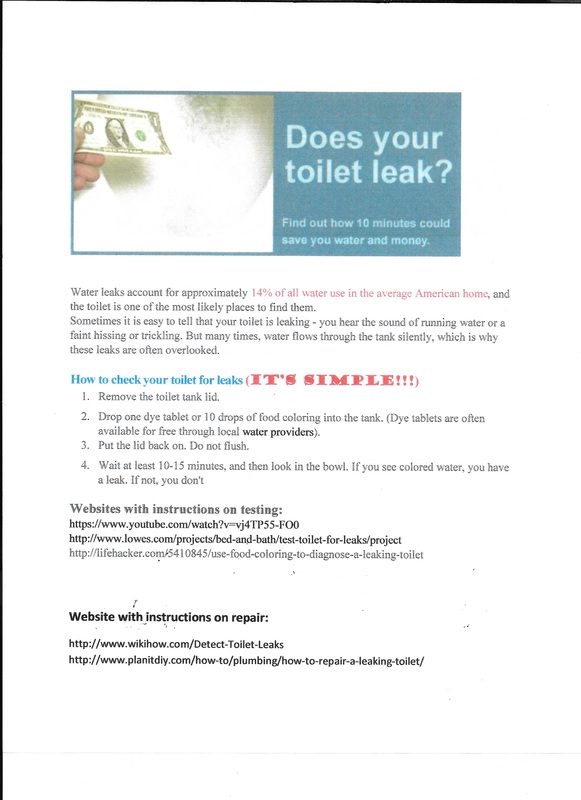 Sustainable Ground Water Management Act - SGMA
In September of 2014, Governor Edmund G. Brown, Jr. signed a three-bill package known as the
Sustainable Groundwater Management Act (SGMA)
. The Sustainable Groundwater Management Act:
Establishes a definition of "sustainable groundwater management"
Requires that a Groundwater Sustainability Plan (GSP) be adopted for the most important groundwater basins in California
Establishes a timetable for adoption of Groundwater Sustainability Plans
Empowers local agencies to manage basins sustainably
Establishes basic requirements for Groundwater Sustainability Plans
Provides for a limited state role
For complete information the state website at:
http://water.ca.gov/groundwater/sgm/
The building or creation of the GSP and the implementation of the findings that come out of the GSP may have
significant financial impact
for our water district. The following is a summary thus far.
1. WCCSD is within the Owens Valley Groundwater Basin District
2, In order to build a Groundwater Sustainability Plan you must be a Groundwater Sustainability Agency (GSA). There are currently 4 agencies that have filed with the State within the Owens Valley Basin.
A. Inyo County
B. Mono County
C. The City of Bishop
D. The Tri-Valley Water Management District
3. The deadline for implementation of the GSP is January 31, 2022.
4. Ideally, there will be one plan submitted for the Owens Valley Basin. Therefore, the four GSA's must work together so their plans come together in a cohesive manner.
5. The State has the authority to reject the GSP.
6. Estimates on building a plan is $1,000,000. It includes hydrology studies and environmental impact reports.
7. A grant can be requested from the State to help off-set the cost. There will be a 50% match on all funds.
8. Only one grant will be allowed per basin. (e.g. within the Owens Valley).
9. Members (as dictated by the State) within the Owens Valley Basin are:
1. BIG PINE CSD
2. CITY OF BISHOP
3. COUNTY OF INYO
4. COUNTY OF MONO
5. EASTERN SIERRA CSD
6. INDIAN CREEK-WESTRIDGE CSD
7. LONE PINE CSD
8. KEELER CSD
9 . SIERRA HIGHLANDS CSD
10. SIERRA NORTH CSD
11. STARLITE CSD
12. TRI-VALLEY WATER MANAGEMENT DISTRICT
13. WHEELER CREST CSD
10. Potential interest parties that could become involved in building the GSP.
1. Agricultural Businesses
2. Disadvantaged Communities Not Already Represented
3. Domestic Well Owner Groups
4. Environmental Organizations
5. Environmental Users
6. Federal Agencies
7. Mutual Water Companies
8. Non-Agricultural Businesses with private wells
9. Public Water Systems
10. State Agencies
11. Tribes
12. Others as set forth in SGMA section 10727.8
The full financial impact has yet to be determined but it could be significant. We will keep you updated on SGMA activities as they unfold. The following are some maps on the Owens Valley Basin. Please feel free to view the State's website at:
http://water.ca.gov/groundwater/sgm/
for more complete information.
​